Most people say that the reel is not important in fly fishing. I don't agree completely.
I've had more than half a dozen fly reels during the last two years and I have only been pleased with two of them.
The worst thing I know is an unreliable reel that does something it is not supposed to do. My Vision Koma has been a pain in the ass, although I have used in light fishing. To be honest, it's a great reel for its price, it's light, has a large arbor, the drag is excellent. But it sometimes loosens its drag on its own and the one-way clutch might slip randomly. Also I have managed to catch the spool release knob with the flyline a few times. Nicest thing to do while in the stream: Looking for your spool from the water.....
I had an Airflo-brand cassette reel as one of my pike reels. It also had a nice drag, the cassette spool system was handy and the mechanical structure felt sturdy in my hands at first. It felt solid until I got to fight a few 90+ cm summer pikes with it. It started to flex so badly that the spool hit the reel body. The flexing also caused the reel foot screws to open so the reel started to fall apart when fighting fish. It wasn't even saltwater proof. Despite all the washing with fresh water, the clicker system jammed totally because of the salt and I couldn't any more line out. This happened on a dark and foggy late autumn day when I managed to hook a 96cm fat and mean torpedo. I will never again fight a fish of that size with a seized reel.
I have a Guideline Reelmaster as one of my sea trout/pike reels. It's a nice basic reel and quite reliable too. Only it's drag system, made of brass and plastic cones, is prone to uneven operation. Also the surface finish is not smooth and might damage the fly lines. A good reel after all.
This spring I bought my second Colton, a little 3-4wt reel. It's nice and very inexpensive, I remember it cost me about 70 euros total. It's completely machined, has excellent drag and the one-way clutch is supported by ball bearings. Great reel for the price and I like it a lot. My choice for very light creek fishing.
The first Colton I bought was the Torrent, for line weights 8-10. I think it will hold a 12wt line and loads of backing. It's really a heavy duty saltwater reel for those big fast buggers from the warmer waters but the moment I really got pissed off with my previous pike reel, I decided that from now on, I will only use tackle designed for such use. I've had no regrets for that decision. I'm totally in love with this piece of equipment. It's as sturdy as it gets, no free play in any direction can be felt. Material thickness in every place of the reel is generous, this reel won't flex when reeling in that big bastard.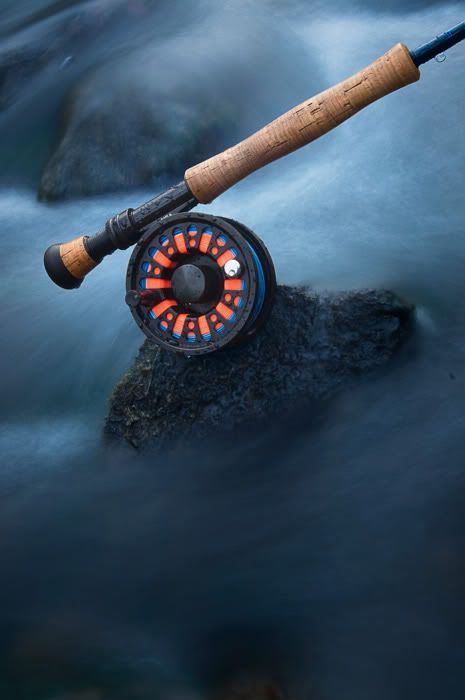 Pic not taken by me...
Torrent has some very nice features that I value very highly. It doesn't have a one-way bearing that is prone to failing in low temperatures. Instead it has a mechanical, quad pawl for engaging the drag. The pawl ring is made of titanium and coated with some super-plastic and they say it should last a lifetime. Don't know about that but it works like a charm. The drag itself is unbelievable, smooth as butter but has total of 18lbs of braking power, which is way more than needed for pike. I only need the use the 3-4 lowest steps. The brake adjust is very precise, drag knob is large and steps are very clear. The whole range can be adjusted in about one revolution of the knob.
As the anti-reverse pawl system is mechanical, the reel doesn't reel the line in by itself as many of the other reels do, which is nice. The feel in the retrieve is very sturdy, it screams "reliability".
Same picture as before.
The main shaft is very thick, drag seems to be sealed and the spool is suspended by a an oversized bronze bushing instead of ball bearings. Ball bearings have a habit of collecting salt and other debris inside and the bushing system seems to be almost maintenance free, just some cleaning and changing the lubricant. I got the reel at about 250e total, which is a steal for a reel of this grade. It really competes head to head with Abels etc..
The reel is quite heavy, which I first thought to make casting a bit heavier. I was wrong, it seems. It really seems that the heavy reel balances the whole rig when casting heavy lines. Now I can cast the whole 12h days with my 9wt without any sign of fatigue. Before this with the lighter reels I quickly started to feel stress in my wrist. I think that the heavy reel combined with fast casting strokes needed with my fast action rod, the reel counterbalances the weight of the line when doing casting strokes as opposed to slower action rods and lighter reels. Slower action rods seem to cause me more stress and fatigue when casting long periods anyway, I think it's a fault in my casting style as it is best suited for fast, tip action rods.
Some new 7-9wt reel is also arriving soon, I'll put some review about it when I get my hands on it.